CMS | Eswatini
Over the past few years Ballywillan has developed a relationship with Challenge Ministries Swaziland, (CMS) who have various ministries in Eswatini (Swaziland) including supporting 850 orphans with a home, care, food and education.
We have had the pleasure of hosting the Bulembu children's choir on several occasions. Last year a team from the congregation was able to visit and experience first hand what an amazing job they do. [Check out the blog here]
Due to the pandemic CMS experienced an 80% reduction in their overseas funding.
We as a congregation have been doing as much as we can to support them through this difficult time.
We will post content below related to our outreach work with CMS.
---
CHRISTMAS CONCERT
Join us here this Friday 4th December from 7.00pm for our online Christmas Concert in aid of the work of Challenge Ministries Swaziland. There will be lots of stories, songs and fun for all the family. It promises to be a night you don't want to miss! Scroll to the foot of this page to Join the live Webcast. There is a DONATE button below the Webcast screen if you wish to make a donation to the work of CMS. Thank you.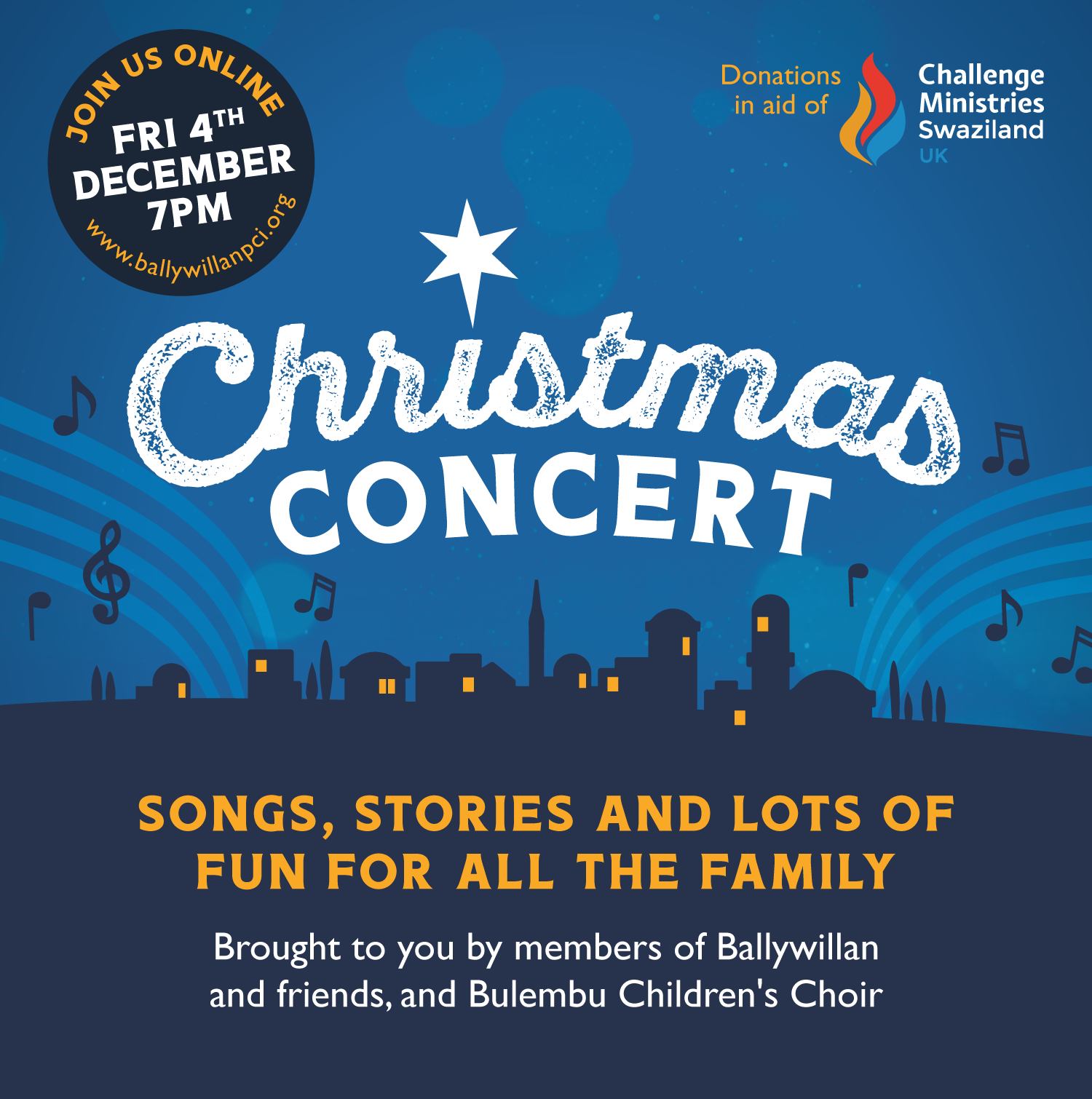 ---
Swaziland Container list.
Challenge Ministries Swaziland are looking to send an emergency relief container filled with lots of different items to Eswatini. They have sent through a list of items that would be of great benefit to the people of Eswatini. If you are able to help out in any way and would like to donate towards the container, please click here to find out more.

The container is scheduled to be sent at the end of December 2020 and it is now full of donated items. However, if you wish you can still make a donation associated with this collection. Please see the list giving these details. Thank you.

---
Anyone interested in co-sponsoring a child at Bulembu through CMS please contact Mike and Jill Nicholl on the following email [email protected]

Thank you to the 175 people who viewed our Concert in July

Christmas Concert - Friday 4th December at 7.00pm.