We are Ballywillan Presbyterian Church
We work to know Christ and Lovingly to make Him known
---
Welcome to Ballywillan
Registered Charity in Northern Ireland (NIC 105543)
Ballywillan Presbyterian Church is a church situated just on the outskirts of Portrush in County Antrim. We have a live webcast of our service every Sunday morning as well as an archive of our past sermons. More information about the church can be found in the sections below:
SUNDAY SERVICE - from September to June takes place each Sunday morning at 10.30am. Each Service is webcast live with 30-40 regular viewers each Sunday. Prayer Ministry takes place at the front of the church after the service when, if anyone would like someone to pray with them or for them, members of the Prayer Ministry Team will be available at the front of the church.
SUNDAY SCHOOL - for all children up to the age of 11/12 - begins at 10.50am each Sunday morning. The older age groups have their own programme and are based in the Youth Room on the Hall stage.

BIBLE CLASS - for teenagers - begins at 11.30am each Sunday morning.
CHILDREN'S DAY SERVICE - will this year take place on Sunday 9th June at 10.30am.

MESSY CHURCH - Everyone is very welcome to come along and join the fun. Messy Church is for everyone aged 9 months to 90! On CHILDREN'S DAY Sunday 9th June the BIG BASH EVENT will then complete the season of Messy Church events for 2018/2019!

HOLIDAY BIBLE CLUB - our Holiday Bible Club "Everest" will run from Monday 29th July to Friday 2nd August - 9.45am to 12.30pm each day. Please sign upusing the sheets in the Link.
MTT - for young people of Secondary School age (11-18 Years) - meets every Sunday evening from 7.30pm to 9.15pm. MTT (More Than This) is our main youth ministry for young people.
LADIES BIBLE STUDY - takes place on Monday mornings at 10.30am in the Octagon. All ladies will be made very welcome.
BALLYWILLAN WALKING GROUP - commenced their season on Monday 6th May. The full programme of Monday evening walks can be found on this website under ADULT MINISTRY - WALKING GROUP.

BALLYWILLAN WOMEN TOGETHER (BLT) - our Presbyterian Women group - meets each month during the year on designated Monday evenings at 7.45pm (coffee and tea at 7.30pm). All ladies will be made most welcome.
KIDS PRAISE PRACTICES - for Children's Day - will continue on Thursday 23rd, Thursday 30th May and on Thursday 6th June at 6.30pm.

PRAYER GROUP - meets on Wednesday evenings at 7.30pm on notified dates. The group will meet this week on Wednesday 22nd May. New members always welcome.
BACK TO BASICS - this group meets on Wednesday evenings at 7.30pm on specified dates. New members always welcome.
HOMEGROUPS - a number of groups operate within the congregation, meeting for Bible study and fellowship on various evenings during the 1st and 3rd week of each month. If you would like more information or wish to join one of these groups please contact the church office ((028 708
COFFEE MORNING - takes place every Wednesday morning from 10.30am - new members always welcome.
PARENT & TODDLER CLUB - meets every Friday morning from 10.15am. New Mums, Dads, Guardians and children always welcome!

CRAFT CLUB - meets on Friday mornings at 10.30am in the Youth Room. New members will be made very welcome!

YOUTH CLUB - meets on Saturday evenings from 7.30 to 10.00pm. All young people 11 to 18 years of age are welcome to attend.
ELDER'S PRAYER TIME - takes place on the last Saturday of every month at 8.00am in the Octagon. The next Prayer Time will take place on Saturday 25th May.
CHURCH BULLETIN - is available on this website under the title WEEKLY BULLETIN. The Bulletin is placed on the Website by Thursday afternoon with details of the forthcoming Sunday Service(s) and events taking place in the following week
MONTHLY NEWSLETTERS - Newsletters and Calendars are available on this website under the title RESOURCES - MONTHLY NEWSLETTERS. The Listings for May are now available.
COME DINE WITH ME - the group meets once a month following a Sunday service and members have lunch at 12.30pm in Portstewart Golf Club. The May lunch will take place on Sunday 26th. For these lunches sign up sheets can be found in the Link and Vestibule.
350 Years of Ministry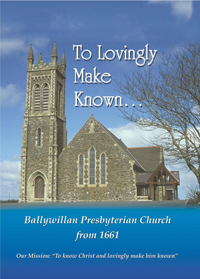 The book "To lovingly make known .... Ballywillan Presbyterian Church from 1661" has been produced to celebrate 350 years of ministry in the church.
Copies to purchase are available in the Church vestibule and in the Link or by contacting the church office.