We are Ballywillan Presbyterian Church
We work to know Christ and Lovingly to make Him known
UNTIL FURTHER NOTICE BALLYWILLAN CHURCH BUILDINGS ARE CLOSED AND ALL ORGANISATIONS AND MEETINGS ARE CANCELLED
---
Welcome to Ballywillan
Registered Charity in Northern Ireland (NIC 105543)
Ballywillan Presbyterian Church is a church situated just on the outskirts of Portrush in County Antrim. We have a live webcast of our service every Sunday morning as well as an archive of our past sermons. More information about the church can be found in the sections below:
---
The Church Office is closed until further notice. Contact can continue to be made by e-mail to the office address: [email protected]

This website for the Church is updated on a regular basis and all immediate and important information will be detailed here. With the situation regarding the coronavirus pandemic changing hourly in Northern Ireland any information relating to Ballywillan Church will be posted on this Homepage.
Posted Thursday 4th June - the Bulletin for the Webcast Service on Sunday 7th June and for the following week is now available on this website. The worksheets for the JAM Children's Service (11) at11.20am on Sunday 7th can be downloaded here.
WEDNESDAY EVENING DEVOTIONAL: Wednesday 10th June: During June there will be a short devotional webcast each Wednesday evening at 9.00pm. As with the Sunday Service, you can join the livestream by clicking here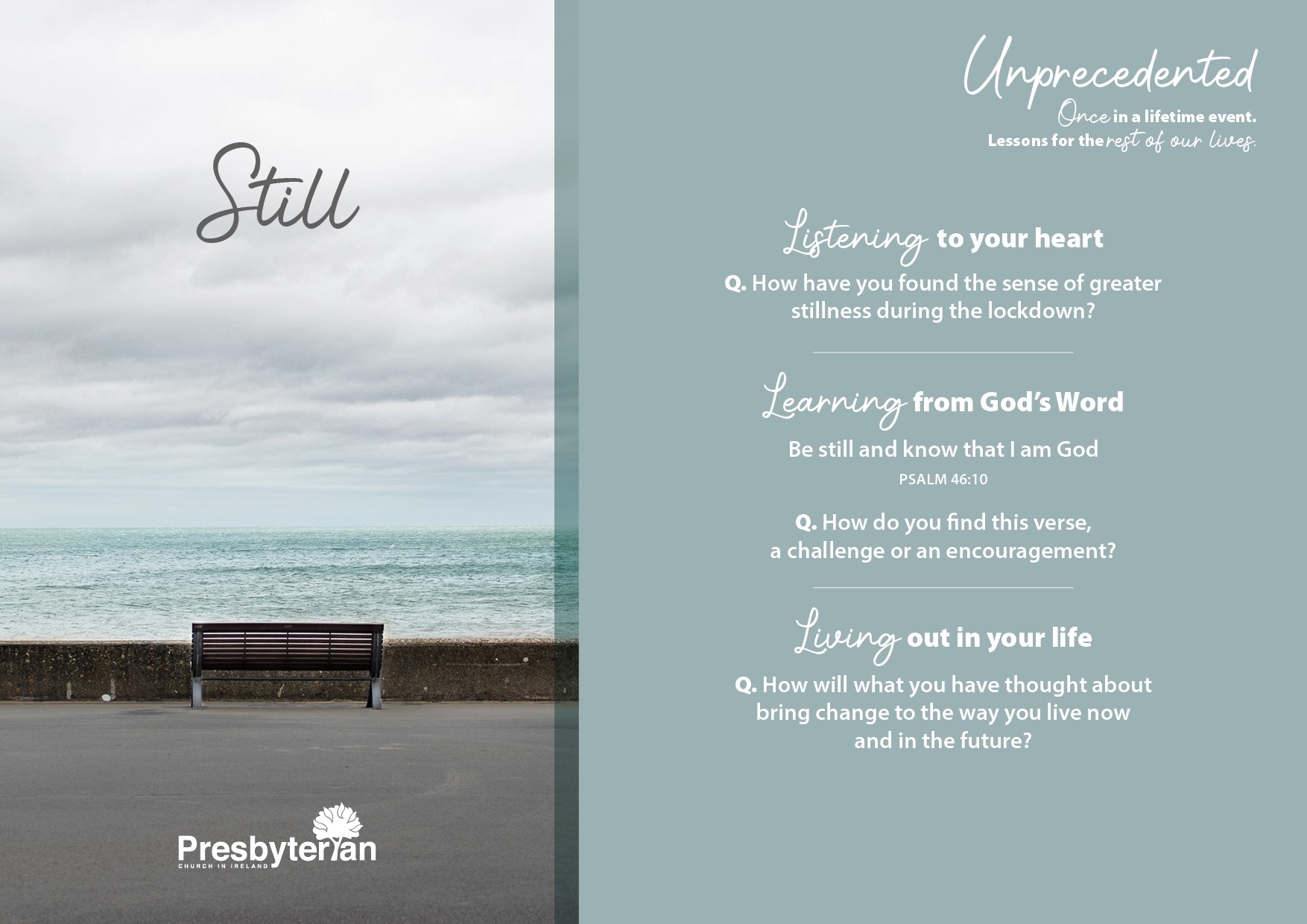 ---
THE GREAT BLINC BAKEOFF! Sincere thanks to all those who baked and donated.The support has been overwhelming. .Click here for the faces and recipes behind the cakes.....!!! Anyone can still make a donation to CMS if they wish! Many thanks to everyone who participated in the GBBO!
---
---
MAY 2020 CHURCH FINANCE LETTER can be read in the CONTRIBUTE Section of the website
BALLYWILLAN YOUTH: for all our latest updates, check out Ballywillan Youth on Facebook and Instagram.
SUNDAY WEBCAST SERVICES: Sunday 31st May (11th Webcast Service): 439 viewers; Sunday 24th May: 527 viewers; Sunday 17th May 505 viewers;Sunday 10th May:529 viewers; Sunday 3rd May: 574 viewers; Sunday 26th April: 511 viewers; Sunday 19th April: 527 viewers; Sunday 12th April: 558 viewers; Sunday 5th April: 538 viewers; Sunday 29th 451 viewers (and first JAM Children's Service); Sunday 22nd March (1st Adapted Webcast Service): 391 viewers. HOLY WEEK REFLECTIONS: Monday 6th April 152 viewers; Tuesday 7th 159 viewers; Wednesday 8th 158 viewers; Thursday 9th 166 viewers and on Good Friday, with a Celebration of Communion, there were 251 viewers of the Reflections webcast.
JUNE WEDNESDAY EVENING DEVOTIONAL WEBCASTS: 3rd June - 88 viewers
JAM (Jesus and Me) SUNDAY SERVICES (1 - 10) can be downloaded in the Sunday School section of the website - MINISTRY: YOUTH MINISTRY: SUNDAY SCHOOL
MTT : The Ballywillan Youth Team have crash landed on the internet! Join us on Discord throughout the coming months, on every Sunday evening from 7.30 - 9.15pm with more programmes and activities to be announced soon. To get involved, please download a consent form here

BOYS BRIGADE: have launched a resource for the next few weeks called "BB At Home". It has lots of fun activities and resources for boys split into their different sections.

WEEKLY FAMILY E-MAIL: each week we will share an e-mail which will have an encouragement in it and some resources that can help you at home. We are trying to build a list of e-mails for families in the church. If you would like to be added to the list, please contact Chris Cunningham (phone 028 70444841) or by e-mail to: [email protected]
MIDWEEK DEVOTIONAL: every Wednesday, on the Ballywillan Youth Facebook and Instagram pages and also over e-mail, we will be posting a midweek personal devotional. It will follow the SOAP Bible Study method and give you a chance to dig deeper into the passages.
You can download our latest study here
MISSED A WEBCAST SERVICE? From Sunday 22nd March 2020 you can now watch recorded Services by going to the Live Webcast page and following the instructions there.
---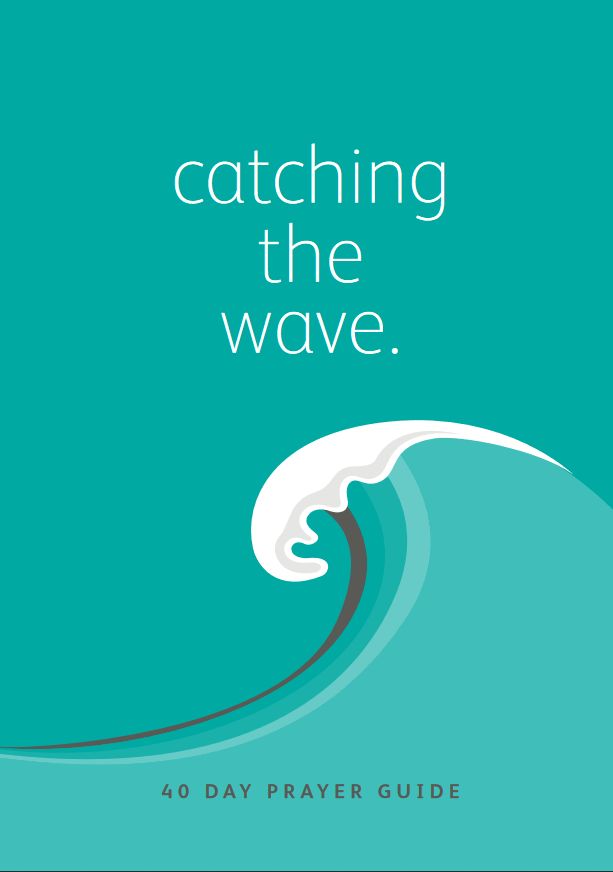 Download the 40 Day Prayer Guide "Catching the Wave" at the following url:
http://www.thereishope.co.uk/wp-content/uploads/2015/12/40-Days-Catching-the-Wave.pdf
---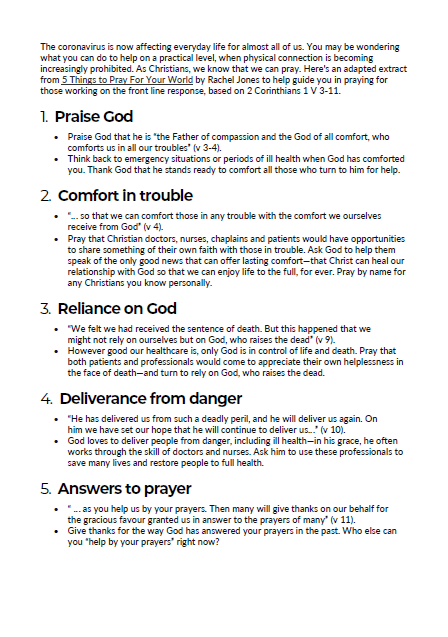 You can download "Praying for issues around coronavirus" from the following link:
https://www.ballywillanpci.org/files/database/880.pdf
---
CHURCH MISSON STATEMENT AND PLAN 2019-2023 - Session have updated the Church Action Plan for the next 4 years. This can be found under the title ABOUT US: WHAT WE BELIEVE.
CHURCH BULLETIN - is available on this website under the title RESOURCES: WEEKLY BULLETIN. The Bulletin is placed on the Website by Thursday afternoon with details of the forthcoming Sunday Service(s) and events taking place in the following week
350 Years of Ministry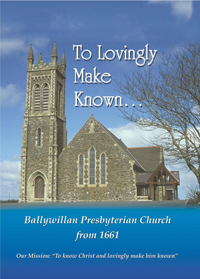 The book "To lovingly make known .... Ballywillan Presbyterian Church from 1661" has been produced to celebrate 350 years of ministry in the church.
Copies to purchase are available in the Church vestibule and in the Link or by contacting the church office.