We are Ballywillan Presbyterian Church
We work to know Christ and Lovingly to make Him known.
WE GIVE A WARM WELCOME TO EVERYONE TO JOIN US FOR WORSHIP EACH SUNDAY MORNING

However, it is important to remember that if you or someone you live with have coronavirus symptoms (fever, particularly a high temperature; a continuous cough; loss of sense of taste or smell) it is absolutely essential you should not attend Services or meetings.

Services continue to be livestreamed and are archived so can be viewed on-demand via the Live Webcast page on this Website.
- SUNDAY SCHOOL -

OUR P1 - P7 CHILDREN'S MINISTRY JAM (Jesus and Me) MEETS DURING EACH SUNDAY SERVICE. JUNIOR BIBLE CLASS IS OPEN TO ANY YOUNG PEOPLE IN 1st - 3rd YEAR OF SECONDARY SCHOOL, WHO LEAVE THE SERVICE AT THE SAME TIME AS THE JAM CHILDREN.

FUNERAL SERVICES, if Livestreamed, can be viewed by going to LIVE WEBCAST: Service of Thanksgiving. For a period of 2 weeks each Service is archived and can be viewed on demand on the Live Webcast page during that period

Welcome to Ballywillan
Registered Charity in Northern Ireland (NIC 105543)
Ballywillan Presbyterian Church is a church situated just on the outskirts of Portrush in County Antrim. We have a live webcast of our service every Sunday morning as well as an archive of our past sermons. More information about the church can be found in the sections below:
---
The Church Office will be open on Monday to Thursday mornings each week from 9.00am to 12.30pm. Contact can be made at all times by telephone 70822612 or by e-mail to the office address: [email protected]. This website for the Church is updated on a regular basis and all immediate and important information will be detailed here.
---
Posted Thursday 2nd January 2023: The Bulletin for the Morning Service on Sunday 5th February 2023 is now available on this website. Freewill offering envelopes should be placed in the baskets in the Link or Vestibule. Tea, coffee and biscuits are available in the Link after each Service. Every Sunday morning the Prayer Ministry Team will be available in The Fraser Room from 11.30am to 12.00 noon to pray with you in person. If you are not in church during that time you can either call or text on 07927292336.

OASIS TROLLEY: The next date that food will be delivered to Oasis will be MONDAY 13th FEBRUARY.

---
JAM: We are looking for extra helpers to help with JAM which runs during church each Sunday morning. We currently have five teams that run for a month at a time on a rota basis. During each session at JAM, there are lots of different ways to get involved, either by helping with crafts, games, story times, prayer, or interacting with the children who come along each week. If you feel that you could help in any way, please get in touch with Emma Peacock or Chris Cunningham.

---
IMMERSE - MESSIAH BIBLE READING EXPERIENCE: audio readings can be listened to at this link: https://www.immersebible.com/messiah-16-week
Those of you who have been following the Immerse Messiah readings will know that we have come to the end of the 80 readings. We do not intend to suggest any pattern of readings for the coming weeks, but Lent begins on 22nd February, and Stephen proposes to introduce some studies during Lent. In the meantime, you might have some of "Messiah" still to read, or you might wish to re-read some parts. Alternatively, you might wish to choose your own path through part of the Bible, or possibly use some of the Psalms during those weeks. The Word Action Group, a small group set-up by Session, oversaw the use of Immerse Messiah in our congregation. We would be interested in whether or not it helped your reading of the Bible and appreciation of its relevance to you. Please give specific reasons for your views. You may talk to any member of the group, Stephen Williamson, Judith Adams, Christine Dunlop, Anne Taylor, Robert Wilson, Ron McCartney (Ron's contact details can be obtained by contacting the Church Office).Thank you.

For anyone who wants a helping hand with Bible reading during the next two weeks, may we suggest 1st and 2nd Thessalonians. These are the Daily Bread readings for those weeks and are on pages 111 to 123 of Immerse Messiah (audio: Days 19 and 20 at https://www.immersebible.com/messiah-16-week). Also, you may refer to Stephen's sermons on 17th, 31st July and 21st August, (to be found on this website, either at: "Resources; Sermon Archive; page1", or at: Home; Webcast; Sunday morning worship; then click the top right-hand symbol, followed by the date you are searching for.)

---
YOUTH ORGANISATIONs: MTT meet on Sunday evenings at 7.30pm in the Youth Room.

CONGREGATIONAL PRAYER TIME: this takes place on the 2nd and 4th Wednesdays of each month at 7.30pm and all members of the Congregation are invited to attend. Meetings are held in The Frazer Room. The group meet on Wednesday 8th February 2023. An Elders Prayer Meeting takes place at 8.00am on the last Saturday of each month.

LADIES FRIENDSHIP GROUP: meets in the Youth Room on Tuesday mornings at 10.30 am for coffee and chat. The Group will meet on....(date to be confirmed). All ages are welcome so please come and meet up with other likeminded ladies. Tea, coffee and mince pies will be served.
BACK TO BASICS: this Bible Study group meets on the 1st and 3rd Wednesday evenings of each month at 7.30pm in The Youth Room. The group will next meet on Wednesday 15th February. Everyone welcome!
---
"COME DINE WITH ME": will take place on the 3rd Sunday of each month. The next lunch will take place on Sunday 19th February 2023 in the Royal Court Hotel.
BALLYWILLAN MEN'S FELLOWSHIP:
Meetings are held in The Frazer Room at 10.30am each Thursday morning. The full 2022 - 2023 programme can be found on this website under ADULT MINISTRY: MEN'S FELLOWSHIP.
On WEDNESDAY 8th February (please note chnge of day) David Loughlin will give a talk entitled "Four Generations at Culmore Farm"
.
New members always very welcome to join the Men's Fellowship!
---
BOWLING CLUB: meets every Wednesday evening at 7.00pm and every Friday evening at 7.30pm. New members will be made very welcome!
---
GIRL'S BRIGADE: GB Explorers meet on Friday evenings from 6.00 - 7.00 pm ; the Company Section on Tuesday evenings from 7.00 - 8.30pm. All new members very welcome.
---
BOYS BRIGADE: the boys meet every Thursday evening as follows: Anchor Boys 6.30 - 7.30pm; Juniors 6.45 - 8.00pm and the Company Section from 7.00 - 9.00pm.
DAILY BREAD Bible Reading Notes - We encourage everyone to read the Bible regularly. Bible reading notes are available to help with this and these can be ordered through the Church Office.
---
BALLYWILLAN YOUTH & FAMILY: for all our latest youth and family updates check out Ballywillan Youth on these links: Facebook and Instagram. On this page, you can also click on the Youth and Family button, which is on the right on a desktop and at the bottom of the page on mobile, for all relevant details.

YOUTHREACH 40th CELEBRATION: This year, we believe YouthReach is 40 years old, and so we'd love to celebrate reaching this milestone. We are hoping to produce a display with lots of different photographs from down the years, which we can show in the Link before church on the Sundays leading up to Easter. If you have any photos that you would be willing to share, please bring them into the Church Office or give them to Chris, with your names on the back of each photograph so they can be returned at the end of YouthReach. Thank you in anticipation!

---
Chris Cunningham is our Youth and Family Worker and he can be contacted at [email protected] or by phone 028 70444841.
---
MISSED A WEBCAST SERVICE? You can watch recorded Services by going to the Live Webcast page and following the instructions there.
---
---
CHURCH MISSION STATEMENT AND PLAN 2019 - 2023 - Session have updated the Church Action Plan for the next 4 years. This can be found under the title ABOUT US: WHAT WE BELIEVE.
---
350 Years of Ministry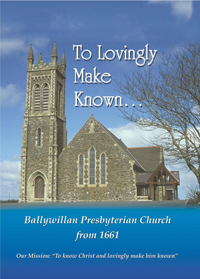 The book "To lovingly make known .... Ballywillan Presbyterian Church from 1661" has been produced to celebrate 350 years of ministry in the church.
Copies to purchase are available in the Church vestibule and in the Link or by contacting the church office.