We are Ballywillan Presbyterian Church
We work to know Christ and Lovingly to make Him known.
SUNDAY SERVICES HAVE NOW RESUMED IN THE BUILDING.

ALL SERVICES WILL ALSO BE LIVESTREAMED.
Services are archived so can be viewed on-demand via the Live Webcast page on this Website.

FUNERAL SERVICES, if Livestreamed, can be viewed by going to LIVE WEBCAST: Service of Thanksgiving. For a period of 2 weeks each Service is archived and can be viewed on demand on the Live Webcast page during that period

Welcome to Ballywillan
Registered Charity in Northern Ireland (NIC 105543)
Ballywillan Presbyterian Church is a church situated just on the outskirts of Portrush in County Antrim. We have a live webcast of our service every Sunday morning as well as an archive of our past sermons. More information about the church can be found in the sections below:
---
The Church Office will be open on Monday to Thursday mornings each week from 9.00am to 12.30pm. Contact can be made at all times by telephone 70822612 or by e-mail to the office address: [email protected]

This website for the Church is updated on a regular basis and all immediate and important information will be detailed here. With the situation regarding the coronavirus pandemic changing hourly in Northern Ireland, any information relating to Ballywillan Church will be posted on this website.
Posted Sunday 13th June: The Bulletin for the 66th Webcast Sunday Morning Service at 10.30am on 20th June will be available on this website on Thursday 17th. The worksheets for the Webcast JAM Children's Service at 11.20am will then also be available to download from the Youth & Ministry Section of the website. JAM has restarted in person for our young people during the Sunday Service! Full details of how this operates are shown in the BACK TO JAM video that can be viewed below.
Please also note that MTT (our Youth Fellowship that meets every Sunday night) and our Youth Bible Study Group (meeting on Wednesday evenings) are back to meeting face-to-face again in the Youth Room of the Church!
---
GUIDELINES FOR WORSHIPPING IN OUR CHURCH BUILDING: Services in the Church building following guidelines from the Stormont Executive and PCI have now resumed. Precautions such as wearing masks in the building, social distancing and hand hygiene will still be in place. Services will also be Livestreamed as usual.

---
THE PRAYER MINISTRY TEAM will be available on Sunday mornings after the Service finishes and before JAM begins (from @11.20am). The Team will be available on the phoneline until 12.00 noon. If you would like someone to pray with/for you during this time, please call or text 07927292336
PRAYER GROUP - Our congregational prayer time takes place on the 2nd and 4th Wednesdays of each month at 7.30pm. The Prayer Group will meet in person in the Octagon this week on Wednesday 16th June and all following meetings will also be held in the church building.
---
DAILY BREAD Bible Reading Notes - In the spring of 2020, as a congregation we used a devotional booklet called 'Catching the Wave'. Part of its strength was that around 250 of us were using it, reading the same daily devotional and then sharing what God was saying to us. In 2021 we are encouraging people to use the Scripture Union "Daily Bread' Bible reading notes. Our prayer is that as we read and learn together, we will be able to encourage each other and "grow in the grace and knowledge of our Lord and Saviour Jesus Christ".
Copies of "Daily Bread" for April to June have been ordered and these booklets can now be collected from the box in the Link. If you have not paid for your copy please put £5 in the envelope provided and post it through the letterbox of the Church Office. You could also telephone the office number ( 70822612) before you plan to call in.
---
---
THANK YOU FROM CHALLENGE MINISTRIES SWAZILAND: 20th MAY 2021
After a full year of supporting CMS in Eswatini we know that the support we in Ballywillan have given has been greatly appreciated.
The latest email messages from Helen and Kurt can be read by going to MINISTRY: OUTREACH MINISTRY: ESWATINI You can also make a donation to the CMS ESWATINI FUND there.

Kurt has sent us a short update video they have put together. https://youtu.be/unB1ERRgQXs

---
BALLYWILLAN YOUTH & FAMILY: for all our latest youth and family updates check out Ballywillan Youth on these links: Facebook and Instagram. On this page, you can also click on the Youth and Family button, which is on the right on a desktop and at the bottom of the page on mobile, for all relevant details. Our SOAP midweek devotional can be found here
---
Chris Cunningham is our Youth And Family Worker and he can be contacted at [email protected] or by phone 028 70444841.
---
MISSED A WEBCAST SERVICE?
You can watch recorded Services by going to the Live Webcast page and following the instructions there.
---
LIVESTREAM VIEWER NUMBERS: This information is available on the applicable Livestream webpage.
---
You can download "Praying for issues around coronavirus" by clicking here.
---
CHURCH MISSION STATEMENT AND PLAN 2019 - 2023 - Session have updated the Church Action Plan for the next 4 years. This can be found under the title ABOUT US: WHAT WE BELIEVE.
---
350 Years of Ministry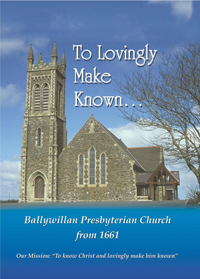 The book "To lovingly make known .... Ballywillan Presbyterian Church from 1661" has been produced to celebrate 350 years of ministry in the church.
Copies to purchase are available in the Church vestibule and in the Link or by contacting the church office.