We are Ballywillan Presbyterian Church
We work to know Christ and Lovingly to make Him known
Welcome to Ballywillan
Ballywillan Presbyterian Church is a church situated just on the outskirts of Portrush in County Antrim. We have a live webcast of our service every Sunday morning as well as an archive of our past sermons. More information about the church can be found in the sections below:
CAROLS BY CANDLELIGHT will take place on Tuesday 23rd December at 8.00pm. This Carol Service will be webcast live.
CHRISTMAS FAMILY SERVICE will take place on CHRISTMAS DAY at 10.30am. This Service will be webcast live.
WATCHNIGHT SERVICE will take place at 11.30pm on Wednesday 31st December.
BALLYWILLAN PRAYER DAY will take place for 13 hours from 8.00am to 9.00pm on Saturday 3rd January 2015.
FUN NIGHT for ALL AGES will take place on Friday 9th January, starting at 7.30pm.
Ballywillan Presbyterian Church: Coordinator of Music: Post advertised September 2014. Full details of this advertised salaried post can be found on this website under the VOLUNTEER title.
350 Years of Ministry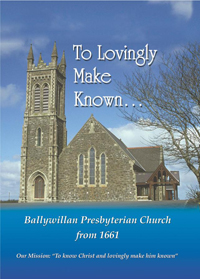 A new book "To lovingly make known .... Ballywillan Presbyterian Church from 1661" has been produced to celebrate 350 years of ministry in the church.
Copies to purchase are available in the Church vestibule and in the Link or by contacting the church office.