We are Ballywillan Presbyterian Church
We work to know Christ and Lovingly to make Him known
Welcome to Ballywillan
Ballywillan Presbyterian Church is a church situated just on the outskirts of Portrush in County Antrim. We have a live webcast of our service every Sunday morning as well as an archive of our past sermons. More information about the church can be found in the sections below:
COMMUNION will be celebrated this coming Sunday 2nd November at 10.30am.
DISCIPLESHIP EXPLORED is an 8 week bible study of the book of Philippians on Wednesday evenings (7.30 - 9.00pm) which commenced on 24th September and runs fortnightly until 17th December. EVERYONE IS INVITED and it's not too late to join in! Full details can be found here on the website under MINISTRY - ADULT MINISTRY - HOUSE GROUPS.
YOUTH CLUB has now restarted! Saturday evenings from 7.30pm until 10.00pm.
REMEMBRANCE SERVICE will take place on Sunday 9th November at 10.30am.
CAROLS BY CANDLELIGHT will take place Tuesday 23rd December at 7.00pm.
Ballywillan Presbyterian Church: Coordinator of Music: Post advertised September 2014
Music, in all of its expressions, has always been an important part of the life of our congregation. Over the years we have been blessed by having people who have used their God-given gifts of music to lead us in worship each Sunday.The Kirk Session, recognising the importance of music in our worship, wishes to appoint someone to lead and coordinate our music.
Full details of this advertised salaried post can be found on this website under the VOLUNTEER title.
350 Years of Ministry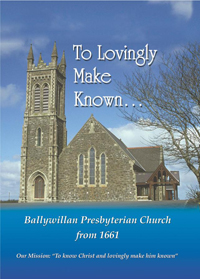 Sunday 1st December 2013 was the launch date of the new book "To lovingly make known .... Ballywillan Presbyterian Church from 1661" produced to celebrate 350 years of ministry in the church.
Copies are available by contacting the church office.