We are Ballywillan Presbyterian Church
We work to know Christ and Lovingly to make Him known
Welcome to Ballywillan
Ballywillan Presbyterian Church is a church situated just on the outskirts of Portrush in County Antrim. We have a live webcast of our service every Sunday morning as well as an archive of our past sermons. More information about the church can be found in the sections below:
BIBLE CLASS will restart on Sunday 21st September at 11.30am in the Youth Room.
BALLYWILLAN INDOOR BOWLING CLUB meet on Wednesday and Friday evenings at 7.30pm. New members always welcome whether beginners or "experts", with tuition available to those who have never played before. Come along and give it a try!
COME DINE WITH ME will recommence on Sunday 21st September at 12.30pm in the Ramada Hotel, Portrush. Sign up sheets are in the Link and Vestibule.
THE INSTALLATION of the Rev. Gordon McCracken as Assistant Minister of Ballywillan Presbyterian Church will take place at 7.00pm on Sunday 28th September.
CHILD PROTECTION TRAINING for everyone involved in working with the children in church will take place on Monday 29th September at 7.30pm. Please note that attendance at this training session is a compulsory requirement for anyone who works with our young people.
BALLYWILLAN UGANDA TEAM will be in Uganda from 6th to 20th October.
HARVEST THANKSGIVING SERVICE will take place on Sunday 12th October at 10.30am.
GIRL'S BRIGADE & BOY'S BRIGADE ENROLMENT wil take place on Sunday 26th October at 10.30am.
COMMUNION will be celebrated on Sunday 2nd November at 10.30am.
REMEMBRANCE SERVICE will take place on Sunday 9th November at 10.30am.
CAROLS BY CANDLELIGHT will take place Tuesday 23rd December at 7.00pm.
Ballywillan Presbyterian Church: Coordinator of Music: Post advertised September 2014
Music, in all of its expressions, has always been an important part of the life of our congregation. Over the years we have been blessed by having people who have used their God-given gifts of music to lead us in worship each Sunday.The Kirk Session, recognising the importance of music in our worship, wishes to appoint someone to lead and coordinate our music.
Full details of this advertised salaried post can be found on the this website under the VOLUNTEER title.
350 Years of Ministry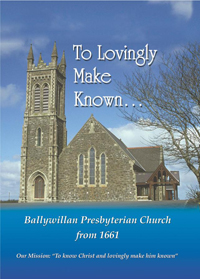 Sunday 1st December 2013 was the launch date of the new book "To lovingly make known .... Ballywillan Presbyterian Church from 1661" produced to celebrate 350 years of ministry in the church.
Copies are available by contacting the church office.