We are Ballywillan Presbyterian Church
We work to know Christ and Lovingly to make Him known
Welcome to Ballywillan
Ballywillan Presbyterian Church is a church situated just on the outskirts of Portrush in County Antrim. We have a live webcast of our service every Sunday morning as well as an archive of our past sermons. More information about the church can be found in the sections below:
SUNDAY SERVICES - double services continue until Sunday 28th August. The Service at 9.30am will be of modern worship with the praise band and the 11.30am Service a more traditional form of worship. The exception is next Sunday 31st July when there will be a single service at 10.15am -
RADIO ULSTER BROADCAST - will be broadcast from Ballywillan next Sunday from 10.15am to 11.00am. The congregation should be seated by 9.30am. There will be a rehearsal in the church on Saturday 30th July from 7.00pm to 9.00pm.
BALLYWILLAN HOLIDAY BIBLE CLUB - Monday 1st to Friday 5th August from 10.30am to 12.30pm for all Primary School children. The J TEAM! Sports, crafts, stories, games, quizzes, refreshments and lots more! More details and Registration Forms can be obtained from the Church Office.
BALLYWILLAN SUMMER SOUL 2016 - Monday 1st to Friday 5th August from 7.30pm to 10.00pm. A week of activities for young people of Secondary School age. £5 per night charge. More details and Registration Forms can be obtained from the Church Office.
SUNDAY EVENINGS AT BALLYWILLAN in JULY - 31st July Music by Emma and Andrew Wallace. Each music evening will start at 8.00pm in the church.
SUNDAY EVENINGS AT BALLYWILLAN IN AUGUST - A few evenings in August for "The Head, Heart and Soul" as we wrestle with some of today's big issues: All starting at 8.00pm: 14th August - Stephen Williams speaking on "Sexuality": 21st August - Peter Lynas speaking on "Culture": 28th August - Norman Hamilton speaking on "Politics".
MONTHLY NEWSLETTERS - please note that for July and August Newsletters and Calendars are not published and will therefore not appear on the website.
BALLYWILLAN WALKING GROUP - the programme of all the Monday evening walks can be found on this website under the title MINISTRY: ADULT MINISTRY: WALKING GROUP
A FRIENDSHIP CLUB - "CIRCLE of FRIENDS" - is a new group meeting on a monthly basis. Further details will be found in the Monthly Newsheets and in the weekly Bulletins.
350 Years of Ministry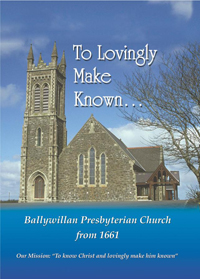 The book "To lovingly make known .... Ballywillan Presbyterian Church from 1661" has been produced to celebrate 350 years of ministry in the church.
Copies to purchase are available in the Church vestibule and in the Link or by contacting the church office.