We are Ballywillan Presbyterian Church
We work to know Christ and Lovingly to make Him known
Welcome to Ballywillan
Ballywillan Presbyterian Church is a church situated just on the outskirts of Portrush in County Antrim. We have a live webcast of our service every Sunday morning as well as an archive of our past sermons. More information about the church can be found in the sections below:
The WALKING GROUP programme for Monday evenings can be found under ADULT MINISTRY.
CONGRATULATIONS! At a Congregational Meeting held on Monday 23rd June the Rev. Gordon McCracken was elected as Associate Minister of Ballywillan Presbyterian Church.
350 Years of Ministry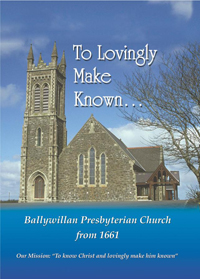 Sunday 1st December 2013 was the launch date of the new book "To lovingly make known .... Ballywillan Presbyterian Church from 1661" produced to celebrate 350 years of ministry in the church.
Copies are available by contacting the church office.