We are Ballywillan Presbyterian Church
We work to know Christ and Lovingly to make Him known
Welcome to Ballywillan
Ballywillan Presbyterian Church is a church situated just on the outskirts of Portrush in County Antrim. We have a live webcast of our service every Sunday morning as well as an archive of our past sermons. More information about the church can be found in the sections below:
WEDNESDAY NIGHT BIBLE STUDIES - THE BIG 5! (Conviction, Redemption, Justification, Adoption and Sanctification)
March 4th - Home Group Study. March 18th - Midweek Study 3 - Justification. April 1st - Home Group Study. April 15th - Midweek Study 4 - Adoption. April 29th - Home Group Study. May 13th - Fellowship Night. May 20th - Midweek Study 5 - Sanctification. June 3rd - Home Study Group.
YOUTH CLUB meets every Saturday evening from 7.30pm to 10.00pm - all young people from P7 and Seconday School age very welcome!
SUNDAY SCHOOL meets every Sunday morning from 11.00am to 12.15pm - all children of Primary School age or slightly younger are very welcome in Sunday School.
350 Years of Ministry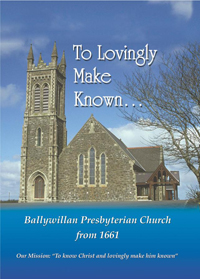 A new book "To lovingly make known .... Ballywillan Presbyterian Church from 1661" has been produced to celebrate 350 years of ministry in the church.
Copies to purchase are available in the Church vestibule and in the Link or by contacting the church office.