We are Ballywillan Presbyterian Church
We work to know Christ and Lovingly to make Him known
Welcome to Ballywillan
Registered Charity in Northern Ireland (NIC 105543)
Ballywillan Presbyterian Church is a church situated just on the outskirts of Portrush in County Antrim. We have a live webcast of our service every Sunday morning as well as an archive of our past sermons. More information about the church can be found in the sections below:
SUNDAY SERVICE - takes place at 10.30am each Sunday.
SUNDAY SCHOOL takes place every Sunday at 11.00am. BIBLE CLASS follows the service at 11.30am each Sunday.
CHURCH BULLETIN - is available on this website under the title WEEKLY BULLETIN.
MONTHLY NEWSLETTERS - the October Newsletter and Calendar is available on this website under the title MONTHLY NEWSHEET.
BACK TO BASICS - discussion groups will take place over the next 3 months on Wednesday evenings - November 2nd - A Stone; November 16th - A Soldier; November 30th - Home Group get together; December 7th - A Steward.
MESSY CHURCH 2016/2017 - Messy Church is a place for the whole church family to meet together to worship God in a relaxed, friendly, fun-filled environment! Messy Church takes place each month on a Sunday afternoon from 4.00 to 6.00pm and the dates for this year are - 23rd October (Welcoming Hands); 4th December (Giving Hands); 15th January (Caring Hands); 26th February (Loving hands); 9th April (Hurting Hands); 21st May (Praying Hands). The final MESSY CHURCH event of the year will be THE BIG BASH on Saturday 18th June 2017.
GIRLS BRIGADE - the GB Explorers section (age 3-7) meet every Friday evening from 5.30 to 7.00pm. The Company Section meet every Tuesday evening from 7.00 to 9.00pm.
BOYS BRIGADE - the Anchorboys Section meet every Thursday evening from 6.15 to 7.30pm. The Junior and Company Sections also meet on Thursday evenings from 7.00 to 8.30pm.
YOUTH CLUB - meets every Saturday evening from 7.30pm.
LADIES BIBLE STUDY - meets on Monday mornings at 10.30am in the Octagon. All ladies are most welcome to come along.
A FRIENDSHIP CLUB - "CIRCLE of FRIENDS" - is a new group meeting on a monthly basis. Further details will be found in the Monthly Newsheets and in the weekly Bulletins.
INDOOR BOWLING CLUB - takes place every Wednesday and Friday at 7.30pm. New members are always welcome and tuition will also be available to those who have not played before.
MEN'S FELLOWSHIP - meets in the Octagon every Thursday morning from 10.30am and their programme of talks can be seen in the monthly Newsletter and Calendar. On October 27th the group will go to lunch!
COME DINE WITH ME - the group meets once a month following a Sunday service and has lunch at 12.30pm in Portstewart Golf Club. The next "Come Dine with Me" will take place next Sunday 23rd October. If you would like to go you sign up on the sheets in the Link or Vestibule. Details of the next lunch will follow soon.
PRESBYTERIAN WOMEN - the group meets on the second Monday of each month at 7.45pm.
350 Years of Ministry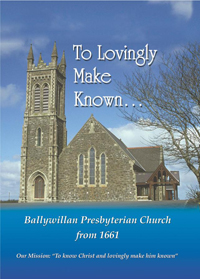 The book "To lovingly make known .... Ballywillan Presbyterian Church from 1661" has been produced to celebrate 350 years of ministry in the church.
Copies to purchase are available in the Church vestibule and in the Link or by contacting the church office.