We are Ballywillan Presbyterian Church
We work to know Christ and Lovingly to make Him known
Welcome to Ballywillan
Ballywillan Presbyterian Church is a church situated just on the outskirts of Portrush in County Antrim. We have a live webcast of our service every Sunday morning as well as an archive of our past sermons. More information about the church can be found in the sections below:
SUNDAY SERVICES - in Ballywillan from September to June there is a single service at 10.30am each Sunday.
MONTHLY NEWSHEET and CALENDER for MAY is available and on this website under the title: RESOURCES: MONTHLY NEWSLETTERS.
CHRISTIANITY EXPLORED - an opportunity to question, explore and wrestle with the truths and implications of the Christian faith in a relaxed and open environment! This 8 week course will take place each Thursday evening from 21st April to 9th June (7.30 - 9.30pm).
BALLYWILLAN WALKING GROUP - the Walking Group commenced their walks on Monday 2nd May. The programme of all the Monday evening walks can be found on this website under the title MINISTRY: ADULT MINISTRY: WALKING GROUP.
CELEBRATION of COMMUNION - will take place on Sunday 5th June at the 10.30am Service.
CHILDREN'S DAY - will be held on Sunday 19th June. Practices will be held on Thursday evenings from 6.30 - 7.30pm starting on Thursday 19th May.
A FRIENDSHIP CLUB - "CIRCLE of FRIENDS" - is a new group meeting on a monthly basis. Further details will be found in the Monthly Newsheets and in the weekly Bulletins.
MESSY CHURCH - a FAMILY FUN DAY is being planned to take place on Saturday 25th June - more details to follow!
YOUTH CLUB - meets on Saturday evenings from 7.30pm and all young people of Secondary School age will be made very welcome - full details can be found on this website under the title MINISTRY: YOUTH MINISTRY: YOUTH CLUB
350 Years of Ministry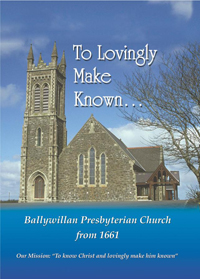 The book "To lovingly make known .... Ballywillan Presbyterian Church from 1661" has been produced to celebrate 350 years of ministry in the church.
Copies to purchase are available in the Church vestibule and in the Link or by contacting the church office.